Cotopaxi Allpa 35L Review
In a sea of backpacks and bulletproof duffel bags, Cotopaxi's Allpa 35L pack is a convenient and well-thought-out option for travelers who want organization and comfort. And, it might just be one of the best unintentional diaper bags on the market.
The Allpa 35 brings a clamshell design with seemingly endless organization. Thoughtful features like security zippers, hidden pockets, and sturdy backpack straps make this bag an ideal companion for travelers. For this review, we used the Del Día version of the Allpa 35.
Cotopaxi's Del Día line of products uses smaller batches of left-over materials than some of their other repurposed collections. Using those leftovers is also what creates the unique color patterns on the bag. It's tough to miss the Allpa 35 on a luggage carousel.
On a recent trip, I spotted another traveler with a well-loved Allpa 35. I approached and asked her what she thought of the bag. She noticed the same bag on my back and enthusiastically shared all of her favorite features. Organization and comfort were at the top of her list.
While the bag seems to be intended for travelers, it has quickly become the go-to day bag for my family. My wife loves the organization. The 35 model is a little large on her frame, but the option to keep dirty clothes and diapers separate outweighs the less-than-ideal fit on her frame.
Duffels vs Clamshell Packs
I love a good duffel for traveling so I was interested to see how I might adapt to a more intentional organization when using the Cotopaxi Allpa 35L – intentional being the operative word. Packing with a duffel means I can afford to just toss in items. Packing cubes definitely help keep things organized, but I've always resented that additional storage is needed on top of a $150 duffel bag. So, when packing the Allpa 35 for the first time, I had to really think through what was on my list. That's a good thing as I tend to over-pack.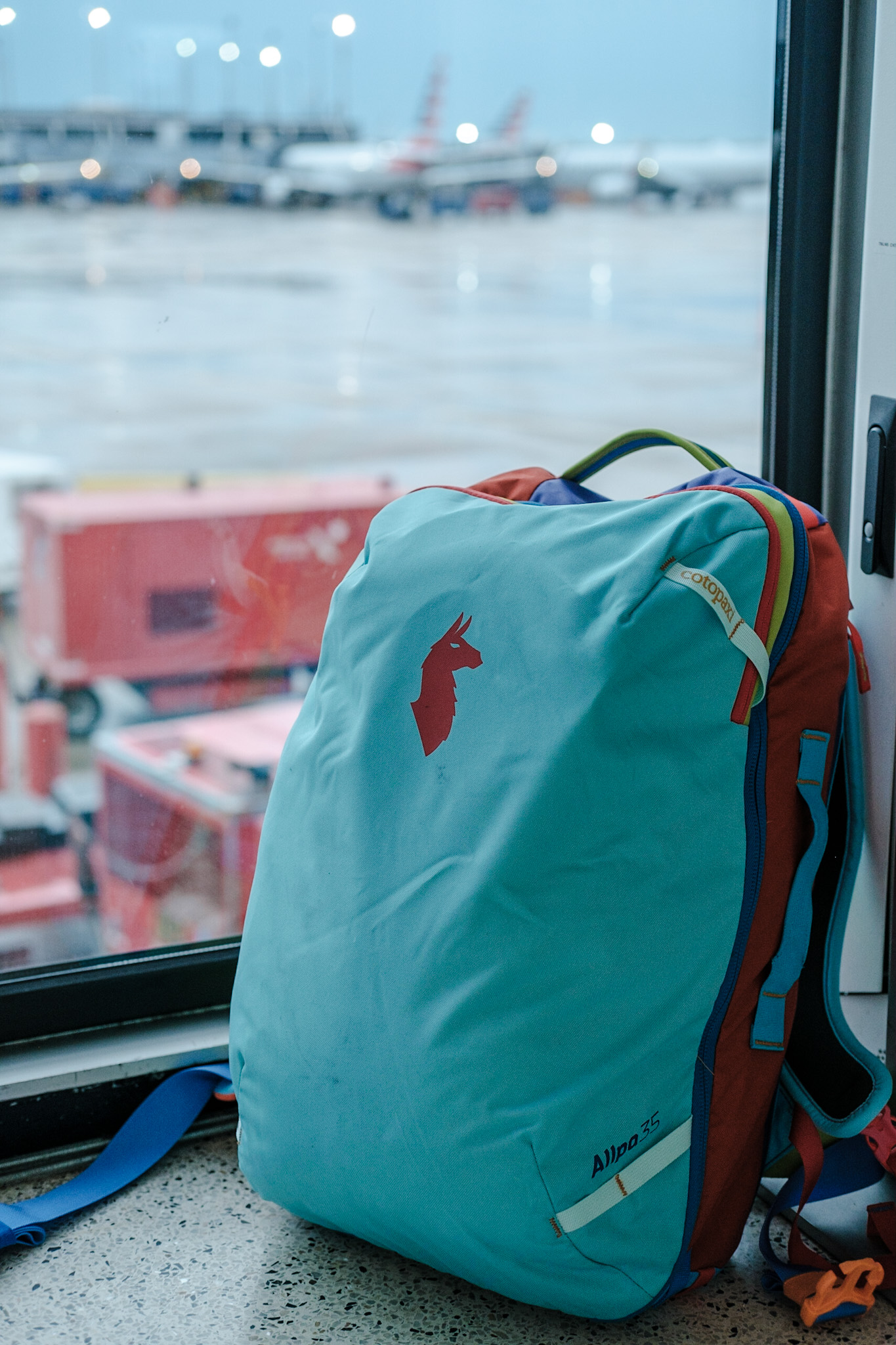 I had a trip planned just around the corner when the bag first arrived. I knew the trip would be longer than the Allpa is intended for and I thought that would be a good test. So I loaded it up and put as much weight on it as I could to zip it up. Keep in mind that I intentionally overpacked on this particular trip. I wanted to see how much the bag could take and what it felt like to haul it through the airport and across multiple time zones. Here's the packing list from that trip.
The bag was heavy, but it took everything I had. I probably could have squeezed in more if I had to. The sturdy backpack straps and hip belt helped offset the heavy load while killing time and walking through the airport.
Cotopaxi says the 35L model is ideal for weekend trips. I think that's true. The trip that I intentionally overpacked for was about five days long. If I hadn't been carrying a camera, two laptops, chargers, and a tech-gear bag, I would have had plenty of space for the week.
Limited External Storage Options on the Cotopaxi Allpa 35L
I loved the organization in the Allpa 35, but there are some potential downsides to be aware of. First, all of that great organization is inside the bag. There is a hefty exterior pocket at the top of the bag that can be accessed from the outside. And you can quickly get to the interior from the side access zippers. But, that means that you have to keep your quick-grab items in those areas.
That may not seem like a big deal, but on more than one occasion while on the road, I ended up opening up the whole bag to access something that was organized in one of the compartments. You'll adapt the way you pack the more you use this bag, so this minor inconvenience will likely improve the more you travel with the Allpa.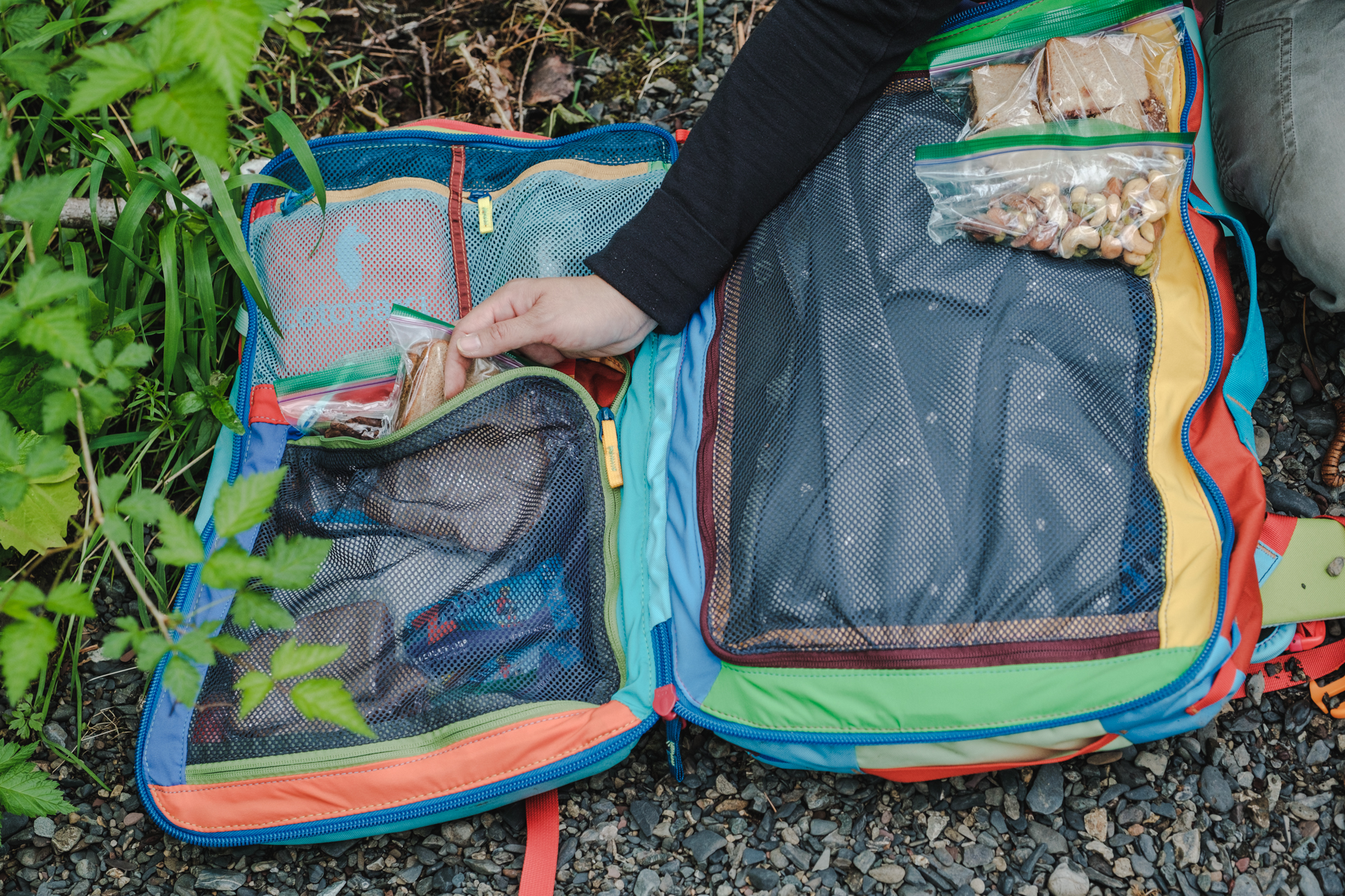 One feature that I found myself missing, rather unexpectedly, was an easily accessed water bottle. When flying almost anywhere, I usually have my luggage and a carry-on. The carry-on has my computer or tablet, camera, snacks, and water bottle. Everything else goes in the luggage. But, while traveling with the Allpa as my only bag, I had to keep everything in one place. And with most of the organization inside the bag, the water bottle was hidden away.
Again, this is another minor detail. But consider some of the minor inconveniences of traveling. I often forget to empty my water bottle before going through security. This was the case while traveling with the Allpa for the first time. I was approaching the TSA agent when I realized that my water bottle was full. I ended up opening the entire bag while in line to empty the bottle. I packed my water differently after that trip, but still, there isn't a dedicated water bottle pocket. That would be a nice addition. Yes, I could just clip a bottle to one of the many attachment points on the outside of the bag, but a full bottle swinging all over as I walk through the airport is not an option for me. I'll just complain about it here and deal with the task of unzipping the side entry pocket when I need a drink.
Subscribe for More Wild Human Stories
Ok…I'm splitting hairs. Lack of outside organization and a dedicated water bottle holder is not, in my opinion, reasons to avoid this bag. The Cotopaxi Allpa 35L is a fantastic traveler that will hold up across many miles of adventures. The big consideration is how you like to travel. Do you like cavernous duffels? Or, do you want to bring some organization to the chaos of traveling? Or, are you just looking for a great day bag for family outings?
On the move is where the Allpa 35 excels. It was comfortable on my back, even when overloaded. My duffel has backpack straps and I use them regularly. But I think we can all be honest here – those duffel straps don't replace a solid backpack.
The Allpa has insane organization and thoughtful security features when you're in unfamiliar locations. The clamshell design is an easy way to keep items contained. The side access zippers allow easy entry into the internal compartments without opening the entire bag.
Whether you're on a family adventure or taking a quick plane ride on a weekend adventure, the Allpa 35L is a solid choice for organized travelers.